Strengthen your muscles with the 44lb Olympic Barbells by IFAST.

If you want advanced strength training, the 7.2' Olympic barbell is the best choice!

With a weight of 44 lbs, the IFAST Olympic barbell is a great tool and essential equipment to add to your everyday fitness and gym routine.We use 190,000 PSI tensile strength steel, cerakote finish on the shaft, and rotating sleeves to eliminate strain on the wrists, helping you stay balanced during heavy lifts.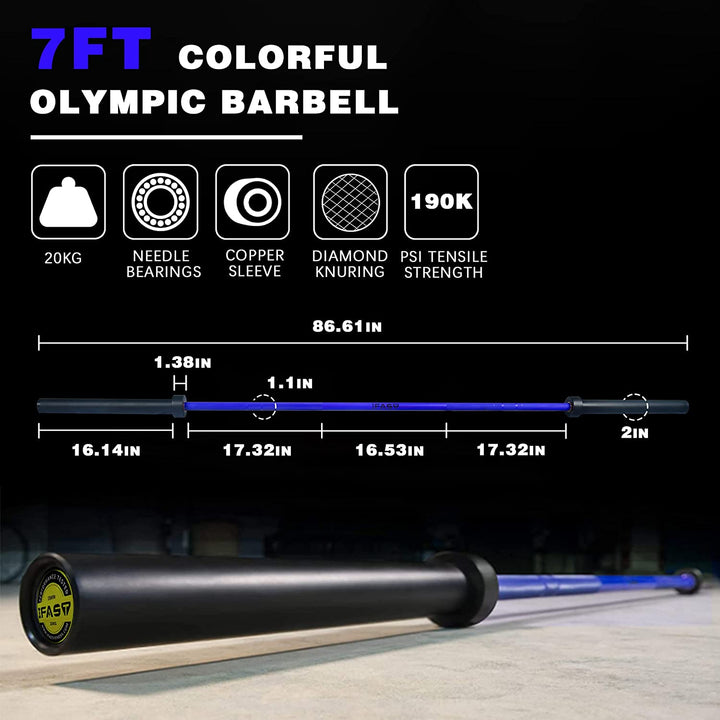 【Smooth Needle Bearing】
Our barbell includes 4 needle bearings, allowing for optimal plate spin. This makes Olympic movements significantly less prone to resistance, increasing your overall performance!
【Comfortable Knurled Grips】
28mm shaft design to grip, tensile strength rating of 190,000 PSI, 1200 lb weight capacity, and standard knurling with dual knurling marks allow for comfortable and anti-slide grips. Knurling marks can help you to control the distance between two hands, for better weightlifting practice.
【Standard IWF 2inch hole】
You can use the weightlifting bar alone for landmine training, or you can add 2inch weight plates at both ends for strength training.
【Multifunction fitness barbell】
This barbell has the strength, speed, whip, and finish to handle varied and multi-modal workouts. It will be your favorite in no time! It will easily control lifting to target desired muscle groups while reducing the risk of injury.
【Home or Commercial must-have】
The IFAST 7.2FT Barbell makes an unregrettable addition to any home or commercial gym. Treat yourself to a barbell that will take your home or garage set up to a whole new level, excited to work out with it!
【Great Effect】
Perfect for a home gym or competitive settings, ensuring a secure hold on the bar. You can do a lot of barbell-base workouts, such as bench press, snatch, deadlifts, overhead pressing, rows and bench work. Also be used to burn calories, increase muscle strength, and relieve work fatigue.
IFAST FITNESS SHIPPING
We deliver magnetic exercise bikes to you based on our California warehouse and offer free shipping for the US. Localization makes the whole process more efficient. IFAST prides itself on fast and efficient lead times. Orders will usually ship within 2 business days once an order is placed. Tracking will become available and emailed to you once the item ships from Corona, CA. You can expect general lead times of receiving the product within 7 business days. If you have any questions please get in touch with us:service@ifastfitness.com